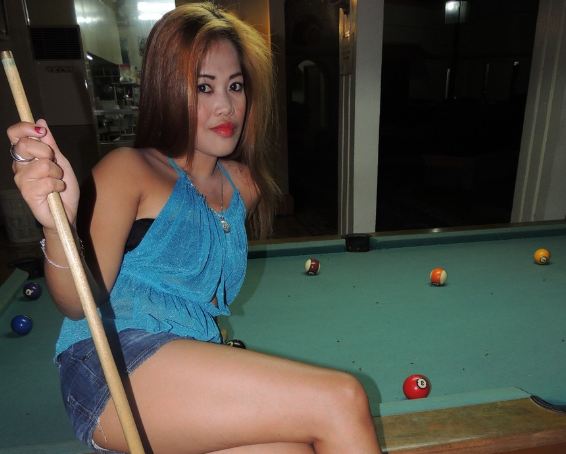 Kokomo's is a great place in Angeles City, Philippines to get a bite to eat, while watching the nightlife happen on Fields Avenue.  The restaurant/bar, is located right in the heart of the action, with bars to the left, right, back and front of the club.   The eatery has an outdoor area where you can sit on bar stools, eat your food, have some drinks, and catch the eyes of beautiful Filipina bargirls walking to work or door girls, hounding customers out front of the clubs.
The Trike Patrol guys love stopping by Kokomo's to grab a bite to eat, before they go on their hunt fo exotic Philippine pussy to fuck in AC.  This night, it just so happened that one of the sexy bargirls from Voodoo Club, a bar connected to Kokomo's, was out having a drink by herself, after returing from an afternoon barfine with an Asian customer.   Daisy had just gotten done fucking him back at the hotel, and then came back to Voodoo to work.  She was grabbing a drink before heading back inside to hunt down some more foreign cock to fuck.
She flirted with the guys at first and they bought her a drink.   They told her they were looking for a hot  to fuck on video, and if she could recommend a girl, they would give her one hundred dollars.  She said immediately, "I'm available to do it."
Daisy got in the trike, and went back to the hotel to fuck on video.  She was amazing, moaning, enjoying the cock, while cumming over and over and getting ultra wet while fucking.  Girls like Daisy are the reason Filipina bargirls are also referred to as Little Brown Fucking Machines.  Wow, what a night and what a fuck.